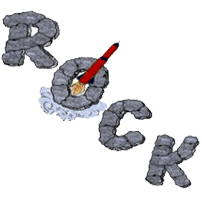 Our April launch was a huge success!
The weather was cooperative, and the rocket-eating trees were left mostly hungry.  It was great to see returning regulars and the many new faces!  Welcome everyone!
Our original NAR Section founder, Don Mathis even stopped by for a visit.  Welcome back Don!  Hope you've re-caught the rocketry bug and you'll be back again soon.
ROCK can now be considered an INTERNATIONAL club thanks to Chris and Sue Hubbard from Ontario, Canada.  Chris brought a great collection of classic and modern kits- Sue pushed the button for each.  You can see some pictures in Chris Michielssen's blog posting for the launch.
Thanks to Jim Carter (from the Titusville Hobby Store) we had an impromptu spot landing contest with three kits that he donated.
Blaize and Colton had a C6 drag race using their 'Star Trax' and 'Hunter' rockets. Both were winners!
We had 90 safe flights recorded, including four F motors and a 4xC cluster in Rick's "Shadow" rocket.   This might be close to a record for a launch without scouts or other groups in attendance.
I was surprised when I flipped through the flights cards and saw so many first flights for rockets.  And very pleased to see so many 'First launch ever!' comments.
I hope everyone had as much fun as I did!
Roger's aerial photos of the launch are in the April ROCK Launch photo album at RocketReviews.com.
Number of Flights: 90
| Motor | Count | Comment |
| --- | --- | --- |
| MMX | 0 | |
| 1/4A | 0 | |
| 1/2A | 0 | |
| A | 7 | |
| B | 35 | |
| C | 36 | (includes a 4x cluster) |
| D | 9 | |
| E | 2 | |
| F | 4 | |
| G | 0 | |
Total Number of Motors: 93
Approximate Total Impulse: 283.12 Ns (equivalent to a large H motor)