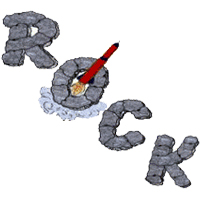 ROCK holds a monthly launch for rockets with motors up to G power.
ROCK's launches are held at the Barr Street entrance of the Little Econ Trail in Oviedo on the first Saturday of each month. We usually begin about 9:30am and continue as long as attendees wish to continue launching rockets.
Our next launch is scheduled for January 7th. The current launch status is Go for Launch. If you are unsure of the weather, please call our "Status Hotline" at (407) 588-7401 on the day of the launch to confirm the current launch status. The message on the status line is usually updated the night before the launch and whenever necessary after that.
Launches are cancelled if bad weather is expected, for a high drought index (typically KBDI>600) or prevailing conditions that would put the Little Big Econ State Forest property at risk from our activity.
The Little Big Econ State Forest Authorities have granted us the opportunity to serve the local rocketry community by overseeing safe and responsible launch activities. LBESF reserves the right to limit the launching of model rockets outside of our assigned agreement with the State Forest. If you wish to launch model rockets of any type outside of our normal launch window, you must obtain specific permission from the Forest Ranger (407-971-3500) and follow their prescribed procedure for permission to launch on their property. A benefit of launching with ROCK is that we carry liability and property protection insurance for our NAR section activities. Our coverage does not extend to activity that is not authorized by our section of the National Association of Rocketry (NAR).
ROCK is pleased to work with those needing assistance for a safe and fun launch experience. Please contact us if you have a need outside of our normal activity on the first Saturday of each month. Also note that other NAR sponsored clubs operate within Florida. Visit the RocketReviews.com rocketry club list to find nearby rocketry clubs wherever you live.
Please do not endanger our privilege of launching on the LBESF property by violating State Forest Policies.
Some items you may wish to bring to the launch include:
rockets and rocket "stuff" (of course- motors, igniters, spare parts, extra streamers or parachutes in case of wind condition changes or problems.) We supply wadding, launchers and help!
folding chairs
sun screen
bug repellant
portable sun shade
cooler with drinks
lunch
Launch fees
Launch fees for non-ROCK members are $2 per person (over 6 years old) to cover the usage fee charged by the Forest and $5 per person or family to cover ROCK launch support. ROCK members pay only the $2 park usage fee. We collect launch fees to keep our launch equipment operational and to provide a fun and safe launch experience for all involved, including Little Big Econ State Forest.
There are no restrooms at the launch site, but several restaurants and gas stations are located just a few miles away on Lockwood Blvd.
Because of the size of the field, we are limited to flying rockets with G motors or smaller and are limited to a maximum altitude of 2000 feet. Please note that "sparky" motors (such as the "Metalstorm" motors from Aerotech) may not be flown at ROCK launches.
Note: ROCK has special permission to use the Little Big Econ State Forest site for club launches once a month. Rocket launching is not permitted at the site at any other time without explicit permission from the Florida Department of Forestry.